Asian Weddings
Wickham House provides the perfect venue for your Asian Wedding Celebration, Sangeet Night, Mehndi, Mandap Ceremony, Walima, Black Tie Event or Birthday, to name a few.
We have a marquee site that can fit up to 400 with amazing views overlooking the Berkshire countryside, using the house as a back drop, Wickham House is the perfect Asian Wedding Venue. Located just outside of London, the estate can accommodate large celebrations of all varieties, from weddings, to engagement or birthday parties.
Wickham House works together with a range of wonderful Asian caterers, which can be found below, offering couples a variety of menus and styles to suit all preferences. Wickham House does not charge for corkage on any soft or alcoholic drinks brought into the venue. We also are sensitive to the needs of the Asian market and can discuss extended hire periods.
Satkeer Catering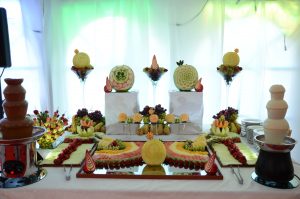 Satkeer Catering, a multi Award Winning company, is one of the UK's finest Indian caterers, providing you with an authentic and unique Indian cuisine. They offer an extensive variety of vegetarian and non-vegetarian traditional Indian dishes, which can be cooked to your specific requirements. All of their dishes are freshly prepared for your event, using only the finest and freshest ingredients.
Satkeer are passionate about our food. Their chef's pay every attention to detail, from selecting only the finest Grade A ingredients, to food preparation and final presentation, ensuring your experience is an enjoyable and memorable one.
Satkeer Catering personally apoint you an event manager who is always on hand to help and advise you among a very broad list of menu options.
With a range of catering options from a tasty buffet, a relaxed sit down meal to a formal silver service event, your guest will be attended to by our courteous and professional waiting staff, leaving you to enjoy the company of your guest and relax knowing your event is being managed by a team of industry professionals.
Their aim is to ensure that all our customer's requirements are met by working closely with you. They also ensure that their comprehensive catering service will deliver the highest standards of food, service and value.
Laguna
Laguna have been established in the Asian Wedding industry for more than 30 years and aim to exceed the expectation of every guest.
Laguna have accumulated a wealth of expertise and knowledge in event catering and management and offer a range of exquisite cuisines complimented with an impeccable service, just to ensure that your big day is truly a special one.
Laguna can provide all your catering needs, from Lebanese menus to Sri Lankan or Punjabi to Gujarati. Laguna can create you a mesmerising menu for your event with their impeccable array of cuisines and service styles. Their renowned cuisine is presented with visual flair, innovation and a touch of panache to leave a long lasting impression with your guests.
Preeti Catering
Preeti Catering is a family business specialising in catering and event management for weddings and events.
Established in 1998, they have built a reputation based on our consistency, professionalism and meticulous event planning.
Their team's ethos is customer focused backed with a sincere approach on your function and everything that makes it unique.
At Preeti Catering they assist you from the very beginning stage of planning your wedding, throughout the lead up and to the big day itself. Their services include:
– Inspiring you with new wedding trends, themes and tips via our social media and blogs.
– Offering in-depth planning meetings covering everything from your bespoke itinerary to your detailed floorplans.
– Professional event management to orchestrate all aspects of your special day including our delicious food and efficient service.
The Food
Preeti Catering offer contemporary and classic menus which guarantee that there is something for everyone. Their food is known to be consistently delicious and of the highest quality, whatever the occasion. Preeti Catering have achieved this through our many years of experience in the catering and events industry.