For those looking for small intimate wedding venues, Berkshire offers just the place. At Wickham House, we understand the importance of your wedding day and make sure to offer you a variety of spaces and options to make your day special. A unique ceremony and reception are right at your fingertips with beautiful surroundings and a number of exceptional venues that are suitable for intimate affairs.
About Wickham House
Wickham House is a glorious late 18th century Georgian manor house situated just outside Newbury in Berkshire. Accessible by car and train, Wickham House is just over an hour's drive from London, making it a beautiful pastoral option for weddings. Set on a 52-acre plot of land, it features lush sculpted gardens, an oak-framed barn, a pool, an outdoor Pavilion and a church, making it one of the most exclusive wedding reception venues in Berkshire. Hosting just one exclusive wedding per month, and no more than one major event per fortnight, Wickham House will make you feel as special as you deserve on your big day.
For Small Intimate Wedding Venues, Berkshire Does It Best
If you are celebrating your wedding with an intimate gathering of only your closest family and friends, we know you are looking for something special and at Wickham House, we will ensure that for a small intimate wedding venue in Berkshire, Wickham House offers everything you are looking for. It is especially well suited for a garden wedding in Berkshire that visitors will love. Avenues of oak trees, architecturally designed gardens and pools provide the perfect background for both serenity and luxury, while offering the ideal backdrop for wedding photos. You will find the barn to be the perfect space for cosy wedding rehearsal dinners, giving you the peace of mind that your special day will go off without a hitch. If you are concerned about accommodation for guests, there is nothing to worry about with luxurious facilities just a few minutes away.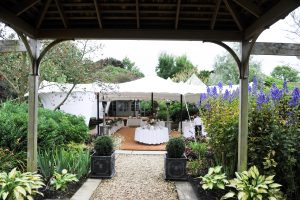 Everything You Need in One Venue
Wickham House is one of the wedding reception venues in Berkshire that offers everything you need in one idyllic location. This is the perfect example of the small intimate wedding venues that the Berkshire countryside can offer. You will be able to relax and enjoy your special event with the time and privacy needed to make the event unique and personal. Enjoy the beautiful surroundings, rehearse in style and comfort, and explore the grounds where your family and friends will be celebrating with you, The staff at Wickham house go the extra mile to make sure you are relaxed in your environment, happy with your guests and ready for your special event. Anyone planning a cherished wedding will be able to find everything they are looking for at Wickham House, the best of small intimate wedding venues that Berkshire has available.