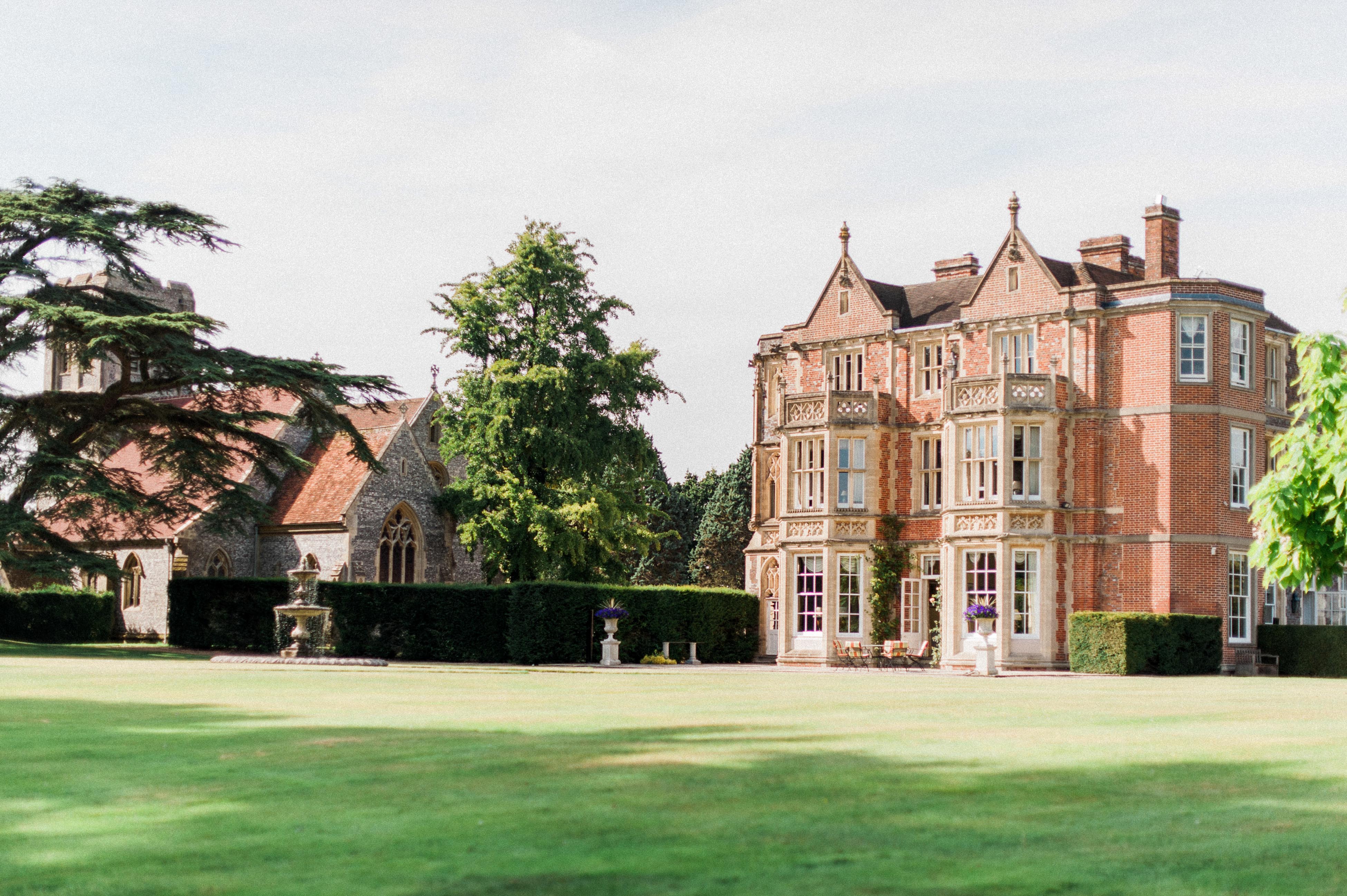 The Berkshire countryside provides one of the most picturesque settings for your wedding. With an exciting variety of spaces on the property, Wickham House allows you to create an imaginative and diverse experience that will offer you and your guests an unforgettable occasion, for a small intimate wedding reception or a large formal affair. The wedding breakfast and dancing will be held in a bespoke marquee sited in the large pasture in front of the house.  Drinks beforehand can be held in a couple of different venues, whether it be in or around the fountain on our main front terrace, or in the stunning Walled Garden, or in the two principal reception rooms in the Main House.
When looking for a large or small intimate wedding reception venue in Berkshire, you will not find a more optimal setting than Wickham House. As a premiere Berkshire venue, the team at Wickham House will exceed your needs to create the perfect experience for your special day.
As a venue for both formal and alternative weddings in Berkshire, Wickham House can perfectly accommodate both religious and civil ceremonies.  The charming church, run by the Church of England, is directly adjacent to the marquee site, facilitating total privacy and removing any issue of transporting guests between the two elements of your wedding.  If you wish to be married in a civil ceremony, or prefer a small intimate wedding venue in Berkshire, our beautiful Barn seats up to 125 theatre-style.  Alternatively, if the weather is likely to be kind, outside garden wedding ceremonies can be held in the Walled Garden, under a permanent pagoda shaped structure, which gives onto a sunken lawn where up to 200 guests can be comfortably seated and which can be covered by a simple side-less marquee if the weather looks iffy.  Obviously this combines well with a drinks reception in the Walled Garden immediately afterwards.
We will never host more than one event a fortnight, ensuring you have the space, time and privacy to make your event highly personalized and unique.
Our venue hire for a Premium Wedding (June – August) price starts at £5,640 (inc VAT) for a mid-week wedding and rises to £9,200 (inc VAT) for a weekend wedding*.  This includes:  use of the Marquee Site and the car park, the Walled Garden or Barn for your ceremony,  the use of the Walled Garden or front terrace for your reception drinks and the use of the Barn during the day of your wedding as a chill-out zone. *2018 Pricing
It doesn't include: cost of the marquee, which can vary hugely based on your choice of supplier and design.  The use of the Barn for your rehearsal dinner is an optional extra.
Low Season: £2,260 (mid-week wedding); £4,200 (weekend wedding)
Mid Season: £3,610 (mid-week wedding); £6,600 (weekend wedding)
High Season: £4,510 (mid-week wedding); £7,300 (weekend wedding)
We provide any/all of the following:
Dry-hire of the various elements of the property via a wedding or events planner. Max 400 guests
Use of the Barn for private family dinner on the eve of the wedding or the rehearsal dinner (<24), for civil ceremonies (<125) and bridal changing and as a chill-out space on the day
Use of the Walled Garden for photographs, outdoor ceremonies (<200) and pre-reception drinks (<150)
Use of the Main House for photographs and bridal changing
Use of the Front terrace of Main House for pre-reception drinks (<250)
Use of the Glamping site for up to 70 guests
Parking for up to 250 vehicles
Asian Weddings
Wickham House provides the perfect venue for your Asian Wedding Celebration, Sangeet Night, Mehndi, Mandap Ceremony, Walima, Black Tie Event or Birthday, to name a few.
With the marquee site fitting up to 400 and amazing views overlooking the Berkshire countryside, using the house as a back drop, Wickham House is the perfect Asian Wedding Venue.
Wickham House works together with a range of wonderful Asian caterers, offering couples a variety of menus and styles to suit all preferences. We are sensitive to the needs of Asian Weddings and Wickham House does not charge for corkage on any soft or alcoholic drinks brought into the venue.
Jewish Weddings
Wickham House is the perfect venue in Berkshire for your Jewish Wedding Ceremony. The house, countryside and grounds create an extraordinary atmosphere for your special occasion, in heart of the quintessential English countryside.
Your chuppah can be placed in a number of beautiful settings; the Walled Garden, Barn or inside your chosen marquee. Wickham is the perfect place to celebrate your wedding in traditional Jewish style.
At Wickham House we guarantee privacy, exclusivity and that personal touch which so many venues unfortunately now lack.
We even have the Smashing the Glass stamp of approval.
Find our two carefully selected Kosher caterers here. Our other caterers and suppliers can be found here 
Click an image above to enlarge