If you're tired of hosting your company's events at the same local pub or event hall every year, then Wickham House makes for one of the most perfect corporate event venues Berkshire has to offer – and is the perfect solution for hosting each and every type of company get-together.
Boasting four highly adaptable and customisable event spaces, Wickham House has been providing hospitality for a wide range of corporate and private events – from retirement dinners, to team fun days, and more.
Meetings, Retreats and More – The Barn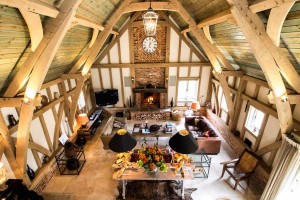 Designed by a top London architect and built in 2014, the Barn is a 100-sq. meter social area, with a large dining space for up to 24 people, a raised open log fire, cocktail bar and open area alongside.
Whether you're seeking the perfect corporate event venue, or space for a business meeting, work retreat and activity or lunch, the Barn is furnished with a state of the art audio-visual system and office software and, of course, a fully stocked kitchen for refreshments. For the more musically-inclined, there's also a regularly tuned piano available.
Peaceful Contemplation, Discussions and Breakout Spaces – The Pavilion
Overlooking the breathtaking Walled Garden is the Pavilion space, built in a Mediterranean-villa style. The Pavilion is available during the summer season as an alternative dining or breakout area for clients based in the Barn. It's an incredibly flexible space, showcasing the beauty of Berkshire, and incorporates a seating space for up to 12 people, a kitchen and picturesque marquee with seating for up to 36. There's also a dining al fresco option available for up to 12 people.
Formal Dinners and Entertaining Important People – The Dining Room
Set in the main house, the elegance of the dining room alone will take your breath away; seeing it dressed as a corporate event venue will amaze you.
Suitable for formal dinners for up to 16 people, it's an ideal space to impress your higher end clients or partners. Drinks before dinner can be served in the similarly exquisite Drawing Room next door or in the Front Hall, for a little more standing room.
Informal Entertaining, Outside Events and More – The Marquee
It's possible that some of your Berkshire corporate events will be less formal in nature, or you might want to take advantage of that raw Berkshire beauty – and with the Marquee site, you have that possibility – imagination is your only limit. Surrounded by 300-year old Cedar of Lebanon trees, you'll have full view of the breathtaking Berkshire downs – whether it be for outside activities, team planning, seated dinners in a natural setting or networking, the Marquee is at your disposal, complete with a 250-space car park nearby but importantly out of sight.
Wickham House – The Perfect Corporate Event Venue
We're proud to have hosted a wide variety of high-end firms for team building, corporate parties, formal dinners and more, and look forward to designing and creating your perfect business affair. Contact Wickham House to be your next corporate event venue