Glamping has come to Wickham! We have the perfect space, down an avenue of oak trees, away from the main hub.  We have carefully sought out the best value suppliers, and we have lots of add-ons to make your experience as luxurious as you wish. Whether your affair is at one of the large or small venues in the lovely setting of Berkshire, glamping is a great way to end the night, or keep the party going even longer!
Look at what the glamping village at Wickham could look like here
Zoo Bells
Part of the Zoo Events Group, an executive event supplier group Zoo Bells offer you all your home comforts in a beautifully decorated bell tent, ready and waiting for your arrival. All their tents feature fully sewn-in groundsheets, keeping wind and rain out allowing you to go wild without roughing it.
So with Zoo Bells forget the late night taxis and early escapes to hotels (always a party killer) and keep guests until the very end.
Honeybells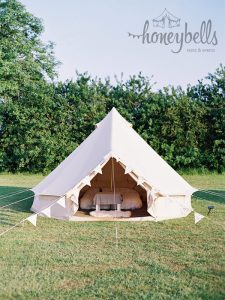 A family run, Dorset based company, born from the love of luxury camping under canvas. They provide their beautiful bell tents as accommodation for every occasion, from weddings to corporate events, parties to festivals and of course, Glamping!
Their collection of beautiful cotton canvas bell tents will create the perfect retreat for you and your guests on your special day.
With 3 different hire options ranging from 2 to 6 person occupancy, they have a bell tent for everyone. Creating a bell tent village for your guests means they don't have to pay for taxis and hotels and more importantly, they don't have to leave the party before it is getting started. With their selection of bell tents we can house over 300 guests. The range includes a standard tent to a luxury option with interior and exterior lighting, carpets, doormats, bunting, beds and bedding. The choice is yours…
The Pop-Up Hotel
Run by the talented Mark Sorrill (whose background is 15 years in luxury property development), the Pop-Up Hotel provides a wide range of temporary accommodation, ranging from 5 star luxury – including bathroom suites, reception rooms and 4-poster beds…. to the more typical safari style tents, mounted on raised wooden floors and containing elegant double beds.  Almost whatever your requirement, they seem to have a solution.
In its marketing material, the company says .."Blending romance, luxury and the thrill of camping, our glamping approach gives you the services you would expect at a boutique hotel, in a location that you wouldn't.  We want to keep you connected to the environment you're staying in, rather than isolating you from it – that's our ethos!"
We concur with these comments and see fabulous opportunities for the creation of a small, well serviced village, on-site at Wickham….keeping the party together.
To visit their website, click HERE