As the New Year draws close, you may be starting to think of ways to honor your partners, investors, or top peforming employees and managers. In order to make them feel truly appreciated, and to inspire continued partnership, you should look for a place that is as unique as it is elegant.
Wickham House is the perfect venue for your corporate event. Located in Berkshire, just an hour outside of London, the estate offers unique locations on a picturesque estate. We are known for our attention to detail, and look after every detail of your event so that your corporate party goes smoothly. All you have to do is relax and enjoy the party.
Wickham House features both indoor, as well as outdoor, locations. Each location is truly unique and can be arranged to suit the needs of your event. From small to large events, Wickham House provides an unforgettable experience for guests. The estate is privately owned and run, which allows for a uniquely intimate feel for guests of corporate events.
Thanking your investors
Your investors and partners have been with you from the beginning. Their continued support has helped you and your partners to bring the company to new heights. At Wickham House, your investors will marvel at the gorgeous landscape from within our exquisite dining room at our Main House venue. This Georgian house was built in the late 18 century and features unique Gothic stone ornamentation. The house's formal dining room is the perfect place for a black-tie dinner. Seating 16 guests, this venue offers high end catering and top-of-the-line service for your formal dinner. Prior to dining, you and your investors can enjoy drinks in the house's drawing room or front hall. You'll find the décor simply stunning and the ambiance to be quite elegant.
Honoring Your Top Employees
Your employees and managers are the backbone of your company, and you want to thank the top performers properly for going above and beyond. Our Barn location offers the perfect mix of 'old world' feel and modern day amenities. The layout of the barn can be arranged to suit your event. Your employees will love the charm of the barn, with its working fireplace and visible wooden beams. The Barn features a full kitchen to allow for high end catering, and is equipped with a top-of-the-line audio/visual system. Our layout normally suits a party of 24 guests. However, the space is fully adjustable and can accommodate up to 48 guests. During the summer, our gorgeous Pavilion location can be added on for an alternative, open-air dining area.
The Perfect Corporate Party Venue
 Should you wish to provide your guests with entertainment, Wickham House offers some unique options. You can choose from active entertainment choices such as fishing, tennis, or clay shooting, or opt for more relaxing activities such as cooking lessons, country walks, or wine tasting.
Our variety of indoor and outdoor venue options makes Wickham House your perfect Berkshire corporate party venue. Your guests will love our high end catering services, which sources much of the ingredients from the produce grown on the estate. You can trust that we will make your party a day to remember for your partners, investors, and employees.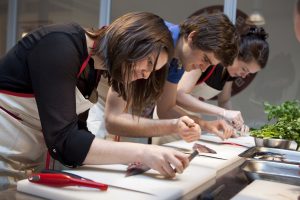 From large corporate clients to small businesses, we hear wonderful and positive feedback from the corporate parties we hold at Wickham House. Our clients are relaxed while planning the event, as well as during the event, as our team deftly handles all the details to make sure the day goes smoothly. From the moment guests enter the property and drive up the winding gravel driveway, they feel transported to somewhere special. From there, the ambiance, décor, and catering further cement the event as one to remember for guests and clients alike.